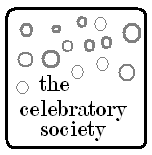 Think of this as the most interesting delurking project you'll ever participate in. You can understand the project in full by clicking
here
, but briefly, the Celebratory Society is an online
festschrift
for a blogger- a way for you to tell me what my blog or actions mean to you.
But this isn't about me- this is about you too. I would love it if you returned to your own blog, started your own Celebratory Society post, added it to the main project list, and give me the opportunity to tell you about...you.
The fabulous Mel, a.k.a. Lollipop Goldstein at
Stirrup Queens
, who I like to think of as our Online Fairy Godmother, came up with this, and like all of her projects this one too is brilliant.
So go on, comment and tell me what this blog of mine means to you. Tell me how reading Wishing4One has transformed your life, kidding. Seriously what do you think of me and my blog, go ahead leave a comment. If this is your first time here read a few posts and tell me what you think.
Know that I love you all dearly. This blog for the past 4+ years has made my life so much more peaceful and so many of you have helped keep me sane in this crazy sea of infertility. I have made so many many wonderful online friends and I wish you could all come to Cairo and we could hang out. I truly, truly heart you all. Now go on leave me some luv.